Voodoo Bacon – Diced (300g)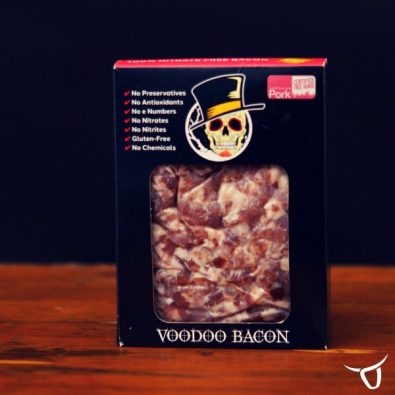 Voodoo Bacon Diced is made from pork belly from Queensland. It contains all Australian ingredients and all ingredients you have heard of and probably stock in your kitchen. There is nothing artificial or unhealthy used in Voodoo Bacon!
Every Voodoo Bacon Diced is lovingly rubbed with salt, sugar and spices by world-renowned multi-award winning chef George Francisco. In keeping with his Southern U.S. roots he handcrafts, smokes and brands every piece of Voodoo Bacon himself. The magic in Voodoo Bacon is the love he puts into this delicious artisan bacon.
Many people love to cook with Voodoo Bacon. It is salty, sweet, smoky flavour is delicious. Try using the diced bacon in a Caesar Salad or fried and sprinkled over a green bean and pinenut salad.
100% Australian Sow Stall Free Pork
100% Nitrate and Chemical Free
Organic Ingredients
Pure Applewood Smoke
Made with Love and Magic in Noosa, Queensland