Chipotle Jam – Spoonfed Foods (300g)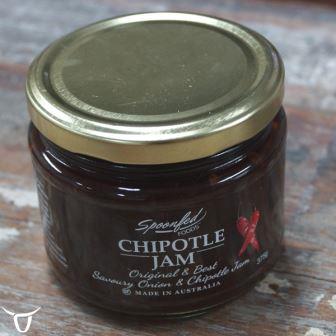 Spoonfed Foods Chipotle Jam combines the smokey aroma and flavour of chipotle with undertones of capsicum and onion. It's great added to any food that just needs a little something extra. Not too hot, just a nice kick at the back of your palate.
Chipotle Jam goes on just about anything. Spoon it on beef, burgers and sausages. Add it to tacos for a mexican sensation.
AWARD WINNING: Gold Medal (Savoury Jams & Jellies) – Sydney Royal Fine Foods Show 2017